10. Ariana Sustainable Luxury Lodge
Cappadocia is located in the heart of Ancient Anatolia, one of the cradles of human civilization. Here, the earliest cities in world history appeared, about 5000 BC. Immersed in this ancient landscape lies Ariana Lodge, a golden-hued, contemporary hotel named after an ancient sun goddess. Beautiful gardens, which tumble down the hillside, invite you to immerse yourself in Cappadocia's natural beauty.  Indoors, the hotel is a light-filled space, pairing timeless design with modern styling. Ariana's luxury suites are exquisitely decorated with 
an inviting ambiance to transform its guest's stay into a one of a kind experience.
9. Amanruya
The Aegean region of Turkey is dotted with spectacular natural scenery, ancient pine forests and scalloped bays. One such bay on the Bodrum Peninsula is home to ultraluxurious Amanruya. Named after the Sanskrit word for peace, 'aman', and the Turkish word for dream, Amanruya belongs to the portfolio of Aman Resorts, one of the world's most exclusive hotel brands. Inspired by traditional local architecture, Amanruya's village layout features individual contemporary stone cottages, each with a private garden and marble swimming pool, and stunning views across the forests and coastline.
8. Agros in Cappadocia
Located in the heart of Cappadocia on the site of an ancient monastery in Old Uçhisar Village, Argos in Cappadocia has carefully restored the remains of historical dwellings, underground tunnels and caves to offer our guests not only an unsurpassed place to stay but a unique perspective from which to view this magical land. All designed in a different style, the hotel offers a great variety of accommodations at 6 different mansions, some of them including private cave pools. The historic linseed press (Bezirhane) with its high domes has been converted into a salon, providing guests with a unique concert experience in the historic tapestry of Cappadocia.
7. St Regis Istambul
Nestled in the heart of the exclusive Nisantasi district, the spectacular St. Regis Istanbul is surrounded by shops, dining, art, and entertainment. The property has two signature restaurants: an intimate rooftop terrace venue and an eclectic French brasserie. The hotel's 118 sumptuous accommodations – including 10 suites, one of them being designed by Bentley – boast a unique identity of discrete luxury, timeless elegance, and compelling grace. All guests enjoy the elevated level of bespoke service of the St. Regis Butler. The hotel openend last year and is my favorite Istanbul luxury hotel.
6. Four Seasons Hotel Istanbul at the Bosphorus
Located along the Bosphorus in one of Istanbul's most naturally beautiful neighbourhoods, the Four Seasons Hotel Istanbul at the Bosporus is a former 19th-century palace transformed into a hotel sanctuary of luxury and comfort. The 145 guest rooms and 25 suites are an airy fusion of traditional Ottoman architecture and contemporary furnishings. The pillared underground swimming hall (with classical music playing underwater) and hammam are not to be missed! Watching the sunset from the expansive white tile terrace or from the outdoor pool with a glass of wine is unforgettable.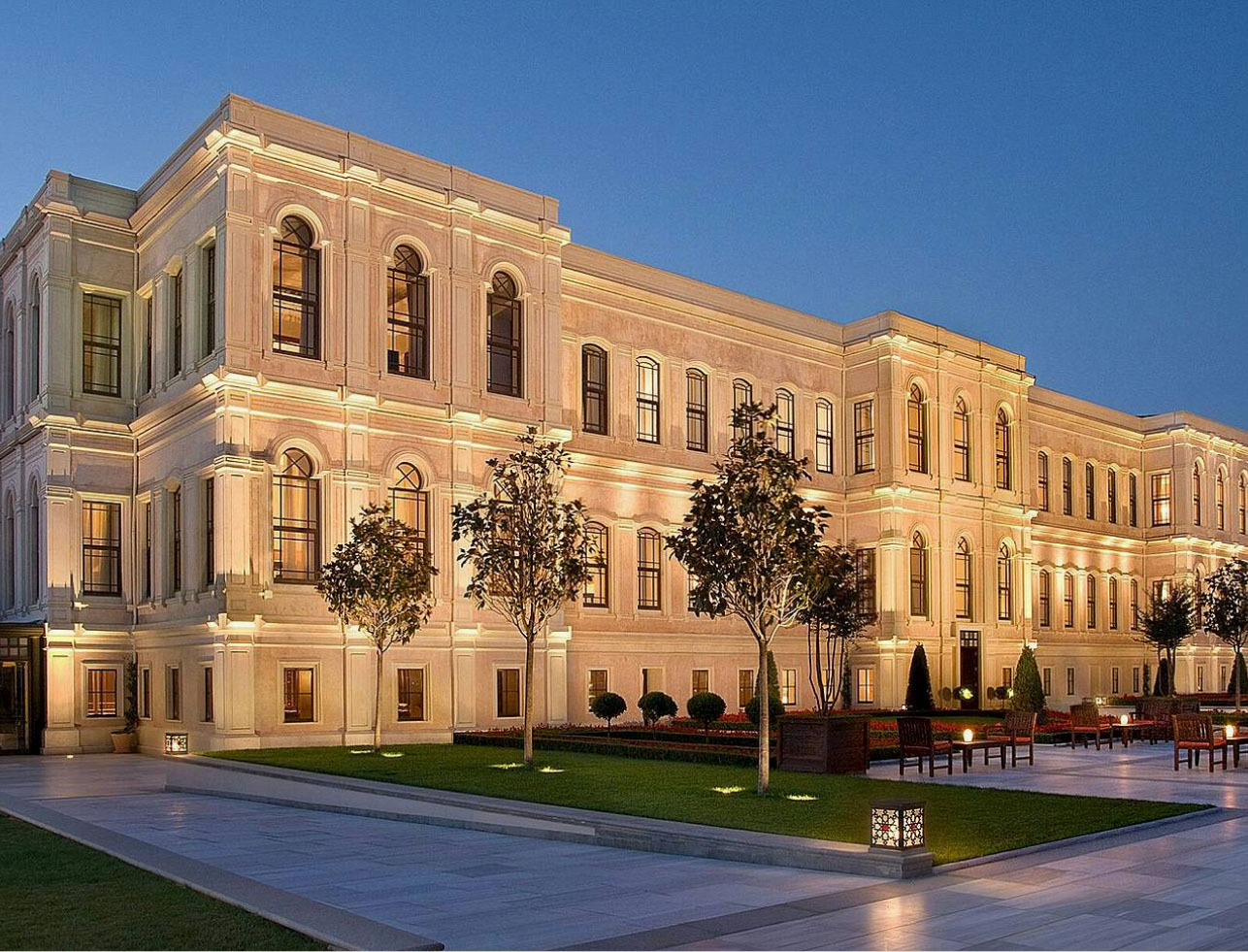 5. D Hotel Maris
High up on the hillside of the magnificent Datça Peninsula, where the Aegean and Mediterranean Seas meet, you will find an exclusive resort that exceeds all expectations. With spectacular and breathtaking views, small islands, luscious pine forests, volcanic mountain ranges, crystal clear waters and five stunning natural private beaches, D-Hotel Maris welcomes you into a peaceful enclave of beauty, serenity and luxury. D-Hotel Maris has 193 spacious, luxurious rooms, suites, a duplex Presidential Suite and an exclusive Villa, all of them specifically designed for the ultimate escape and relaxation, and most featuring a bathtub with breathtaking views.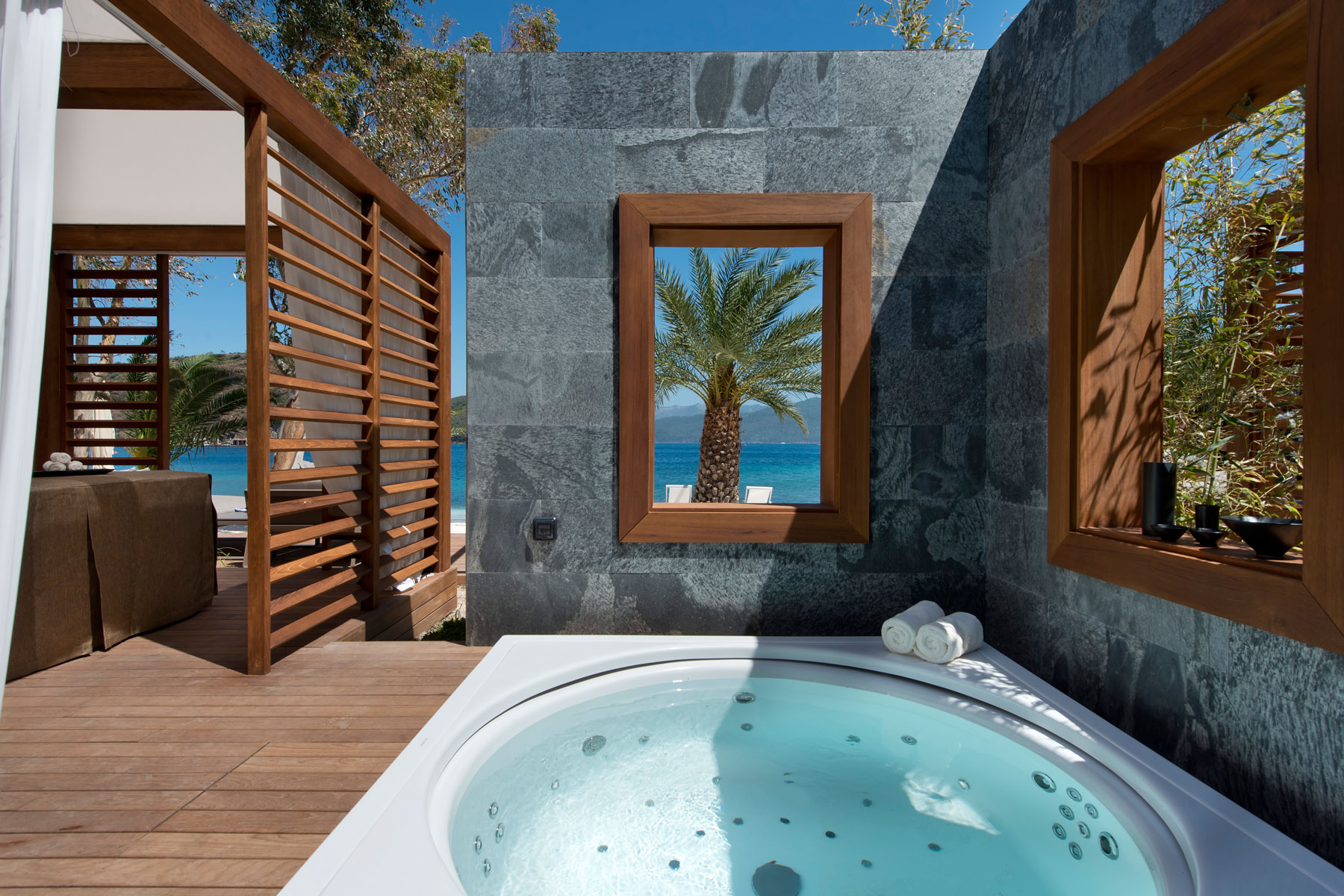 4. Caresse, a Luxury Collection Resort & Spa, Bodrum
Caresse, a Luxury Collection Resort & Spa, opened its door in July 2015 and enjoys a beachfront location in the heart of Bodrum, close to the historic Bodrum Windmills and Bodrum Castle. Beautifully appointed, the hotel's 67 rooms, 9 suites, and the Caresse King Villa, offer excellent amenities, modern technology, signature Luxury Collection beds, private balcony or terrace and captivating views of the Aegean Sea. Luxury extends to a stylish blend of chic furnishings and tasteful bathrooms that epitomize the concept of lavish comfort. Don't forget to visit the superb spa, a sanctuary of tranquillity nestled within the resort.
3. Kempinski Hotel Barbaros Bay Bodrum
Nestled on the cliffs overlooking pristine Barbaros Bay, Kempinski Hotel Barbaros Bay Bodrum is located on a private bay with a 'blue-flagged' private beach facing the magnificent Aegean Sea, offering its guests a unique and luxurious vacation. The hotel beckons travelers with its gorgeous white architecture, natural wood accents, and turquoise blue pools. The 149 rooms and 24 suites all have floor-to-ceiling windows with walk-out balconies or terraces that overlook the turquoise blue waters of the Gokova Gulf. The resort boasts a rich variety of restaurants, bars and also has a wonderful spa.
2. Mandrain Oriental Bodrum
With an idyllic location in Bodrum's secluded Paradise Bay, two private beaches, a range of fabulous gourmet restaurants, a world-class spa and a choice of stylish rooms, suites and villas, this unique 6-star resort will seduce even the most discerning traveler and invite you to lie back, relax and savour the moment. The first beach resort of the Mandarin Oriental hotel group is so phenomenal that it makes the nicest 5 star resorts look like a cheap motel. If you are in need of a luxurious beach break around the Mediterranean basin, then stop looking as this is as exclusive a getaway as you can imagine!
1. Jumirah Bodrum Palace
Set along the spectacular Bodrum coast with the Aegean Sea as its outlook, the phenomenal Jumeirah Bodrum Palace, formerly The Golden Savoy, is nestled in the natural beauty of Zeytinlikahve Cove. With accommodation consisting exclusively of opulent suites and extravagant villas, a private beach and an array of the finest wining, dining and entertainment on offer, the resort is the ultimate paradise for connoisseurs of perfection, indulgence and superlative pleasure. The resort is managed by the exclusive Jumeirah hotel group, which also owns Dubai's iconic Burj Al Arab hotel.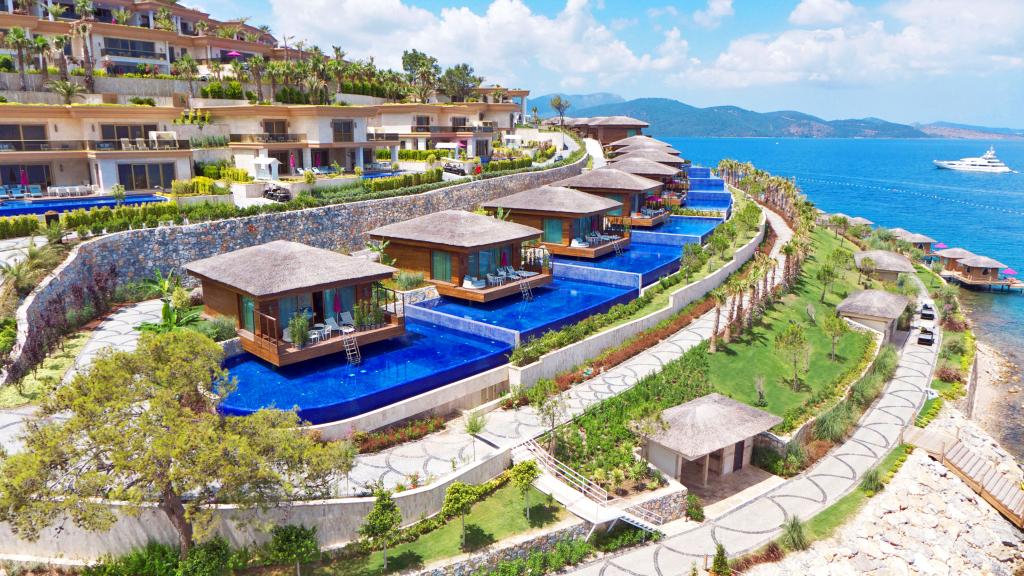 articles from: Luxury Travel Expert